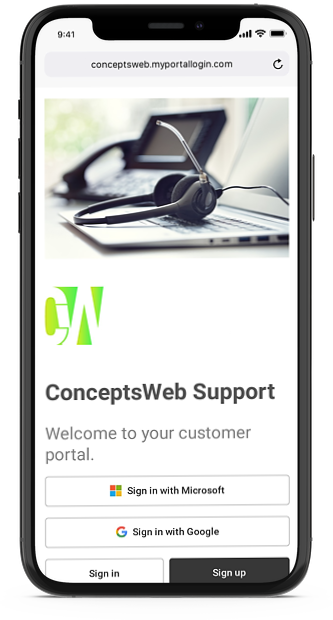 The Customer Portal:
Easy access to support
The customer portal allows our clients to know how their project is evolving, but also manage their invoices. It's also a quick way to open a ticket if there's a problem.
Open new tickets or track past ones

Track the progress of your projects

As a manager, view your team's tickets
What Our Clients Say
Some kind words from our respected clients
Why Work With Us?
We provide solutions based on trusted technology providers…
Our expertise makes us knowledgeable in what we do. We only use trusted technologies who have proven themselves to be reliable, supportive and cost-effective for our customers.
EVOLUTE UC – Terms & Conditions
Agreement Termination
If you wish to terminate your agreement with us, a notice period of 60 days is required. However, if you have a yearly commitment of 1, 3, or 5 years, termination before the commitment period ends will require payment of the remaining balance for both committed licenses and devices. If there's no commitment, we reserve the right to terminate services with a 60-days notice. Regardless of the circumstances, we are committed to assisting in the transition to your new provider. Please note that a termination fee equivalent to two months of service fees will be applicable upon termination. By entering into this agreement, you acknowledge and accept these termination conditions.
Payment Terms
Payments are due monthly on the first of the month, with a net 15 terms. Late payments will be subject to a 1.5% monthly interest fee. Services may be suspended after 60 days of non-payment and terminated 30 days after that. You have until the end of those 30 days to request your data or settle your account. Accepted payment methods include credit cards, PayPal, Interac e-transfers (for Canada), and wire transfers. If you opt for annual payment, the total for the year's service will be billed every 1st of February.
Price Changes
We reserve the right to adjust pricing for our services at any time as we deem necessary. We commit to providing at least 30 days notice to you of any such changes. Your continued use of our services following any price change constitutes your acceptance of such change.
Per-User Billing
Our VoIP services are billed on a per-user basis, which means the total monthly cost is directly proportional to the number of users under your account. Whether you choose to manage the system yourself or opt for our team to handle it, adding or removing users will automatically adjust your total monthly fee. New user charges will be prorated for their first month based on the date of addition, and reductions for removed users will be reflected in the next billing cycle following their removal. Your acknowledgment of this policy indicates your understanding that your monthly total may change based on the number of users.
Hardware-as-a-Service
Our Hardware-as-a-Service is an optional offering where you can rent devices such as deskphones, headsets, PA adapters, and DECT/wireless phones. These devices come with a comprehensive warranty for the duration of the rental period. Please note that there's a six-month minimum commitment per device. The hardware rental fees are billed separately from the user charges, meaning the cost for these devices is not included in the per-user cost for the VoIP service. This separation allows for flexibility and clarity in your billing. By opting for our Hardware-as-a-Service, you're acknowledging these terms and agreeing to the minimum commitment and separate billing for these devices.
Support Services
Our support services cover all levels of licensing and devices, and include Tier 1 support for system access, usage, management, and debugging, as well as guidance on feature or app usage. Wildix provides Tier 2 and 3 support for more complex issues. Our support does not extend to issues related to software, tools, or circumstances beyond the services listed here.
Service Level Agreement (SLA)
Our SLA guarantees a one-hour acknowledgement, a four-hour plan, and an eight-hour resolution for emergencies. For regular issues, we ensure a four-hour acknowledgement, an eight-hour plan, and a 24-hour resolution. Please note that these timelines are our best effort and there might be exceptions for issues beyond our control.
Disclaimer for Enhanced 911 (E911) Services
VoIP services have certain limitations compared to traditional telephone service in terms of 911 functionality. Your use of our VoIP services and acceptance of these terms constitutes your acknowledgement and understanding of these limitations.
Registration of Physical Location: For E911 purposes, customers are required to register the physical location where the service will be used at the time of activation.
Update Requirement: It is the responsibility of the customer to inform us of any changes to the registered physical address. In the event of an emergency, failure to provide the correct physical address may result in emergency services being dispatched to the wrong location.
Fee for Unregistered 911 Calls: If an emergency call is made without a registered physical address, a fee of 250$CAD will be applied.
Service Outages: Understand that power outages, broadband service outages, or suspension/termination of service due to billing issues may affect the VoIP and E911 services.
Consent: By accepting these terms, you acknowledge and consent to the E911 limitations and agree to the terms and conditions herein.
It's crucial that you understand and accept these conditions for your safety. If you do not clearly understand the nature and limitations of the E911 service, please contact us for further information.
Data Protection and Privacy
We commit to safeguarding your data. Our server, hosted in your country on AWS, maintains the highest standards of data protection, and we offer options for on-premise or virtual appliance hosting. We adhere to GDPR and HIPAA compliance regulations, ensuring your data is handled responsibly. Data erasure is available upon request, in line with our commitment to your data rights.
Force Majeure
We shall not be held responsible or liable for any failure or delay in the performance of our VoIP services for the period that such failure or delay is due to causes beyond our reasonable control, including but not limited to acts of God, war, strikes or labor disputes, embargoes, government orders, or any other force majeure event.
Dispute Resolution
All disputes or disagreements related to our service will be governed by Canadian law.
Fair-Use & Abuse
Our commitment is to provide high-quality VoIP services, and we expect these services to be used in a lawful, fair, and non-abusive manner. Customers are expected to utilize our services responsibly, without disrupting, interfering with, or negatively impacting our network or our ability to provide services to other customers. Any misuse of our services, including fraudulent activity, violation of any applicable laws or regulations, or unusual or excessive usage patterns compared to typical customers in the same sector, is strictly prohibited. By accepting these terms, you agree to adhere to this Fair Use and No Abuse Policy. Violations may result in suspension or termination of services. Please contact us for further clarification if needed.
Liability
To the extent permitted by law, we shall not be liable for any direct, indirect, incidental, special, consequential, or exemplary damages, including but not limited to damages for loss of profits, goodwill, use, data, or other intangible losses resulting from the use of or inability to use our services.